Click here to download the PDF version of the newsletter.
Dear Reader,
We are excited to commemorate September's Craniofacial Acceptance Month through this issue of the myFace | YOUR IMPACT newsletter! This newsletter is an important opportunity for us to illustrate not only the resilience, strength, and beauty of the craniofacial community, but also the impact that your generous support has on the lives of those with facial differences everyday. Some highlights – made possible by people like you – include:
Board of Trustee member, David Santiago, helps myFace Star, Anibel, pursue her interior design dreams.
High school student, Hayley, conducts a science research project – combining her loves of singing and speech therapy – to benefit the craniofacial community.
Spanish Speaking Parent Support Group grows in its second year to reach more families.
From NICU newborn to thriving 1-year-old, "One Florida Family's Story."
Questions and answers can be seen from the experts featured in June's Transforming Lives webinar that explored Navigating Adolescence with a Craniofacial Condition: Strategies for Empowerment and Success.
Thank you for all you do to help myFace transform lives. Every podcast episode you listen to, every webinar you participate in, every event you attend, every social media post you like, and every dollar you donate, helps us to raise awareness, fight stigma, spread kindness, and provide access to medical care, resources and community for individuals with facial differences and their families.
We could not do this critical work without you!
If you are looking for more ways to celebrate Craniofacial Acceptance Month, please join us at the 11th Annual Races for Faces on Saturday, September 23rd at Pier 62 in New York City (or virtually)! Races for Faces is our annual 5k walk and community outreach event – with music, performances by our myFace Stars, carnival games, a raffle, great prizes, and more. See you there!
Stephanie Paul
Executive Director, myFace 
P.S. If you can, please consider giving a gift to myFace to provide education, support, and access to holistic comprehensive care for individuals with facial differences and their families. With my appreciation!
---
GOING BEYOND THE CRANIOFACIAL JOURNEY: Helping One Teen Pursue Her Dreams
Anibel, now 17, has been passionate about interior design since she was a freshman in high school. She believes in helping people express themselves through their spaces, and wants to help people feel as comfortable and as happy in their environments as possible.
Anibel was born with Nager Syndrome, a rare condition that mainly affects the development of the face, hands, and arms. At birth, her cheekbones and lower jaw were underdeveloped, which also affected her hearing, speech, breathing and feeding abilities. myFace has been Anibel's second family, providing her and her family access to state-of-the-art care and support over the past 15 years. Thirty nine surgeries later, she's a young adult ready to tackle the world.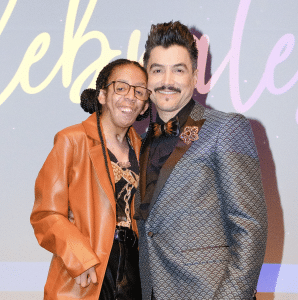 It was at last year's myFace Celebrates… event where Anibel met myFace Trustee, David Santiago, a talented tenor opera singer and interior designer with his own firm, Casa Santi. As a junior in high school, Anibel was starting to think about college, and how to pursue her own interior design dreams. Anibel took matters into her own hands, and reached out to David for guidance.
Over the course of the next year, the two had several Zoom calls where they discussed Anibel's interests in interior design, and David shared some of his own work to give Anibel ideas and inspiration, in addition to teaching her basic sketching. David has taken an interest in Anibel's talent and uniqueness, and wrote her a beautiful letter of recommendation to the New York School of Interior Design (NYSID), where he is also a member of the board. 
David shares, "Anibel is so enthusiastic – she takes it all in like a sponge. I believe in her and will continue to support in any way I can. She has bright stars on her horizon!" Even though the two haven't known each other for long, Anibel says  David "feels like family" and has taught her to "trust myself and persevere, no matter what comes my way." Anibel is starting NYSID in September – along with an internship with David's design firm, Casa Santi, where she will be shadowing David on various projects and learning the ropes of the business.
We can't wait to see all that you'll accomplish, Anibel!
---
CREATIVELY BENEFITING THE CRANIOFACIAL COMMUNITY: Through Singing and Speech Therapy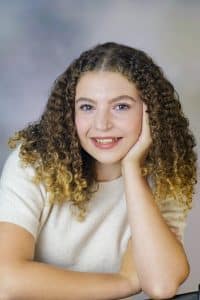 Hayley, 16, has been dancing and singing since she was 4, and has participated in over 30 productions, including our signature myFace Celebrates… event in May 2023.
Hayley is also a diligent student, and participates in her school's 3-year Science Research Program. Born with a unilateral cleft lip and palate, her research project combines two of her passions: singing and speech pathology. Her study, "The Effect of Different Singing Techniques on the Nasality of Speech with Individuals with Cleft Lip and Palate," was inspired by her own experience of working with her parents – both trained singers – on her vocal phrasing, tonality, and nasality. Hayley wanted to see if she could replicate her own positive results with other individuals with cleft lip and palate. Hayley has had six study participants so far – all fellow performers that she met through myFace.
"Before myFace Celebrates… I never spent much time with people with facial differences just like mine. Even though we started off as strangers, they all agreed to help me with my research project. We all had fun, and it was so cool to know that I was helping them, too. It meant a lot to me!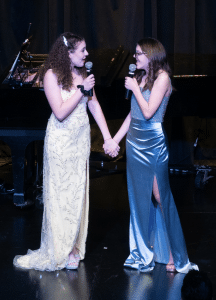 For the study, Hayley briefly records participants singing and speaking several phrases. She then works with them on vocal techniques, after which she records participants singing and speaking the same phrases again. Hayley then compares the "before" and "after" recordings to see if there are any differences in hypernasality. Study participants also fill out a survey at the end of their experience to help assess the impact of the intervention.
Over the course of the next year, Hayley will continue to collect data, and then eventually present her findings in regional competitions. Hayley's ultimate vision is to create an app where users can access the recorded singing and speaking techniques whenever and wherever they want, and practice on their own time.
Thank you, Hayley, for pursuing your interests while simultaneously – and creatively – benefiting the craniofacial community. Hayley is hoping to recruit a total of 200 participants for her study. If you are interested in participating, please reach out to us at info@myFace.org, and we will connect you.
---
MYFACE SPANISH PARENT SUPPORT GROUP: Helping Parents for Their Children and Themselves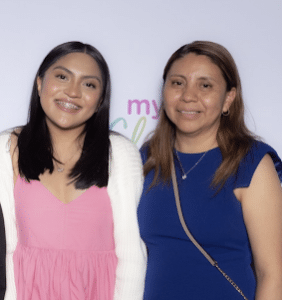 myFace debuted a new support group in March 2022 to serve the Spanish-speaking parents in our community. The Spanish Parent Support Group quickly grew and now has participants from across the country, as well as one international participant from Peru. The group is led by bilingual social worker Anastatia Fabris, and meets virtually every other Thursday. Members describe this close-knit group as "like a family."
The support group gives parents a space to explore how they can better support their children who are living with a facial difference, especially if their child has been the subject of teasing, bullying, or exclusion. They also discuss any concerns they may have about their child's academic performance, and what types of resources may be available to help. They also discuss how to ensure that siblings don't feel neglected, so that ALL of their children are receiving the support and attention they need to thrive. Importantly, the group also discusses the need for parental self-care. The parents report that – by further developing their own emotional awareness and stress management skills – they are able to be more present for their children, and to have more satisfying relationships in general.
As a mom, I always try to be strong for my daughter. But I was really worried and nervous about her most recent surgery… I realized that I, too, need emotional help. Thanks to this Support Group, I've been able to find a better way to help my daughter and to talk about my own feelings." – Group Member Gloria Perez
For more information visit myface.org/online-groups or to join this group, please contact Sandy Gilbert at: sandy@myFace.org. (Para obtener más información, o para unirse a este grupo, comuníquese con Sandy Gilbert en: sandy@myFace.org.)
---
ASK THE EXPERTS: Q & A

On June 15th, myFace presented a free educational webinar as part of our Transforming Lives series entitled:"Navigating Adolescence with a Craniofacial Condition: Strategies for Empowerment and Success." Below are some of the questions posed to our speakers during the webinar:
How much autonomy do you recommend giving teens about the decision to undergo surgery?
Dr. Albert: It's extremely important that the parent and child be collaborative in surgical decision- making once a child reaches adolescence, because the teen is the one undergoing the surgery. If a teen is not interested in undergoing a particular surgery, we practice active listening to understand the reasons why they are choosing not to pursue surgery. We also make sure that they have all the information necessary to make an informed decision – including the fact that, as they get older, they may age out of care with a craniofacial team and may be subject to insurance restrictions.
How are male and female patients treated differently, based on their gender?
Dr. Crerand: We try to take an individualized approach to care, regardless of whether an adoles- cent identifies as male, female, or another gender. There is an assumption that appearance is more important to girls, but there is actually a lot of pressure on boys, as well, to look a certain way and to "be" a certain way. Instead of assuming that we don't have to worry about how boys feel about their appearance, and instead of being overly focused on how girls feel about their appearance, we try to understand how each individual patient is actually feeling – and then try to tailor our support accordingly.
How do you prepare yourself mentally for an upcoming surgery?
Jackson Doane: For me, being in the proper head- space is very important. So I try to structure my thinking in a positive manner, and remind myself that I may have to go through some difficult experiences – like surgery – to get the results I want. It really helps to work with your parents and your craniofacial team to outline a plan in advance of how everything will take place, to remove any doubts from your mind. It also helps me to have my home environment prepared in advance, so that I can come home and fully relax after the surgery.
What strategies have you used to navigate bullying, and how did you not let it get you down when it happened?
Hailey Dore: When I got bullied at school, I told myself that my bullies probably had something going on in their lives that was making them unhappy – because there's no reason someone should make fun of another human being just because they look different. I also tried to keep in mind that, as teenagers, we're all struggling with a lot of emotions (including the bullies).
All Transforming Lives webinars are archived and available to view on myFace.org/transforminglives.
---
THE MYFACE FAMILY APARTMENTS: One Florida Family's Story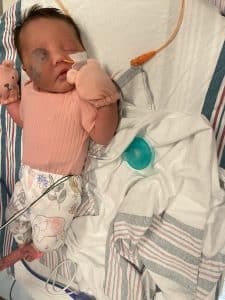 Meet little Caylani, who at not even 2 years old, has already undergone four surgeries to treat her congenital venous malformation (VM), a birthmark that occurs when the veins do not develop normally.
In March 2023, Caylani and her moms, Chrissy and Caylee, traveled from Florida to New York City so Caylani could under- go surgery at Lenox Hill Hospital to treat her VM, which had started to block the vision in her left eye. The trio then came back for another stay in July for follow-up care for Caylani.
In the beginning, Chrissy and Caylee had no idea what was going to happen. They spent the first few weeks of Caylani's life in the NICU, trying to get answers and be brave for their daughter. Today, they reflect on what an amazing journey it has been, watching Caylani "grow from a 5 pound NICU baby to a thriving and happy 1-year-old!"
"After the long days in the hospital and figuring out the subway, the apartment was a cozy and relaxing home away from home. We can't thank myFace enough for everything!" – Chrissy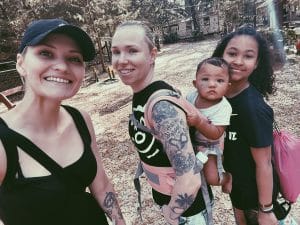 The pair has advice for other families going through similar situations: "Don't give up. Not on yourself, or your child. Some days are harder than others… but always remember – you're important, you're loved, and you're never alone."
To support the myFace Family Apartments and/or learn more, visit myFace.org/travel-housing.
---
September is Craniofacial Acceptance Month
"A facial difference isn't something to be ashamed of or to be "fixed." Rather, it should be seen as something that someone can take pride in having, since it is a form of beauty, despite the medical challenges that come with it." -Taina
---
UPCOMING EVENTS: Mark your Calendars
Don't miss our 11th Annual Races for Faces – it's shaping up to be the best one yet! Visit www.RacesforFaces.org to learn more.

To learn more about the upcoming webinar on October 24th, 2023, visit myFace.org/orthodonticwebinar and register today!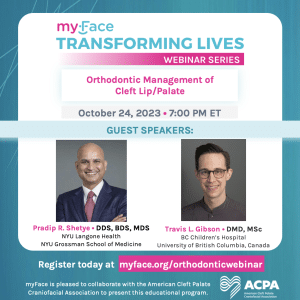 October is National Bullying Prevention Month. To learn how to bring the myFace Wonder Project to your school, visit myFace.org/Wonder!