Camp Reflections 2022 (August 14-20)
myFace is delighted to have joined forces once again with Harbor Camps/Camp Reflections in New Hampshire, led by founder Nick Teich.
The weeklong program is designed for youth ages 8-16 living with a craniofacial difference and their siblings, providing them with a safe, non-judgmental environment where they can simply be themselves!  Kids will have the classic camp experience – lots of crafts, games,  activities, and talks around the campfire – that encourage camaraderie and promote understanding.
The generosity of our donors has allowed myFace to be able to sponsor 10 youth (on a financial need basis) to attend the camp for the 2022 Session (August 14-20th).
For more information about the camp, please visit www.harborcamps.org/camp-reflections, and/or download this PDF. 
Click here to apply for financial assistance to attend camp!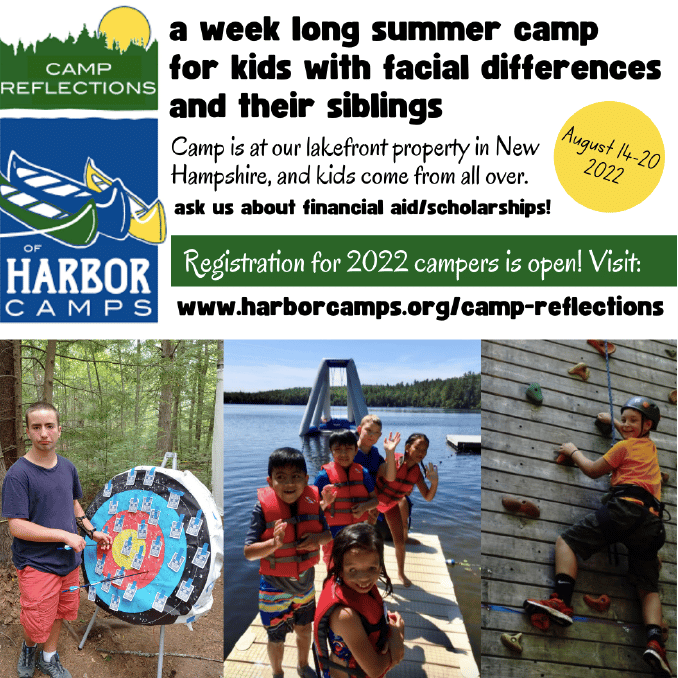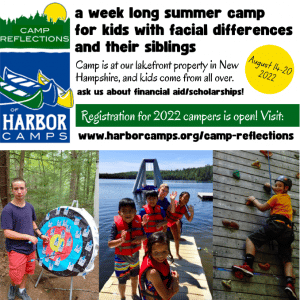 This is what some campers from the 2021 session had to say…
"I participated in Camp Reflections because it's a safe place for me. I don't see people like me a lot back home, so this was a great place for me to express and be myself." – Hector 
"As a sibling, I chose to go to Camp Reflections because it's cool to learn about other people's stories that are almost identical to my brother's. It really helps me understand where my brother is coming from." – Gino
"Going to Camp Reflections made me feel loved and welcomed. It's an amazing place where I can be myself." – Jocelyn
---
Flying Horse Farms (July 16-21)
Flying Horse Farms offers a FREE Summer Residential Camp for kids ages 8-15 with craniofacial differences as part of the Rheumatology, Rare Disease, Pulmonary and Craniofacial Summer Camp session, taking place July 16th-21st in Mt. Gilead, Ohio.
There is no cost to attend camp, and lodging and meals are provided. Campers will live in cabins, and participate in traditional summer camp activities under medical customized supervision. These activities include archery, boating, fishing, arts and crafts, nature, sports and recreation, overnight outpost camping and all group programs. There are still spots available, and interested kiddos are welcome to apply! 
Click here to create your account & apply today!
Questions? Please reach out to campers@flyinghorsefarms.org.