Virtual Craniofacial Support Groups
Ensuring that individuals impacted by facial differences and their family members from across the country have a place to turn for support is critical to the work of myFace. 
Designed to provide guidance, support, and community for those living with facial differences and their families, myFace support groups provide an environment where participants can feel safe, hopeful, and never alone. Support groups for adolescents, adults, and parents are a cornerstone of the help myFace offers to the craniofacial community. The support groups are a mix of therapist-led and peer-led, are offered virtually, and meet regularly throughout the month.
Join a Support Group
For more information about Adolescent, Adult, or Parent Support Groups, please email Dina Zuckerberg: Dina@myFace.org
For more information about the Prenatal/Infant Parent Support Group or the Spanish Parent Support Group, please email Sandy Gilbert: Sandy@myface.org
For Individuals with a Facial Difference
For Parents of Individuals with a Facial Difference
Upcoming Online Groups, Workshops and Events
5/21/20 @ 4:00 PM
Parent Support Group • Advocating for Your Child During the Homeschooling Environment
with: Lilliana Diaz-Pedrosa, Esq.,Advocates for Children of NY Director, AFC Parent Center
5/23/20 @ 5:00 PM
myFace Family Concert with Jennifer Paskow
Our Self-Care workshop from 4/25/20 is available online!
Click here to watch
5/02/20 @ 2PM
FB Live with Rick Guidotti of Positive Exposure
Click here to watch
Our Parent Group on Nutrition and Healthy from 5/07/20 is available online!
Click here to watch
5/09/20 @ 11:30 AM
Nutrition and Eating Healthy – Adult Group
See flyer below for more info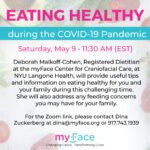 5/10/20 @ 2:00 PM
Adolescent Support Group
5/14/20 @ 4:00 PM
Parent Support Group
Upcoming Online Groups, Workshops and Events
5/14/20 @ 4:00 PM
Parent Support Group