Camp Opportunity for Children with Craniofacial Conditions and Their Siblings
Camp Reflections (New Hampshire; August 13 – 19)
Harbor Camps/Camp Reflections in New Hampshire offers a weeklong program designed for youth ages 8-16 living with a craniofacial difference and their siblings, providing them with a safe, non-judgmental environment where they can simply be themselves!  Kids will have the classic camp experience – lots of crafts, games,  activities, and talks around the campfire – that encourage camaraderie and promote understanding.
For more information about the camp, please visit www.harborcamps.org/camp-reflections.
myFace is pleased to offer a limited amount of sponsorships for campers on a first-come, first-served basis. Learn more and apply today at bit.ly/CampReflections!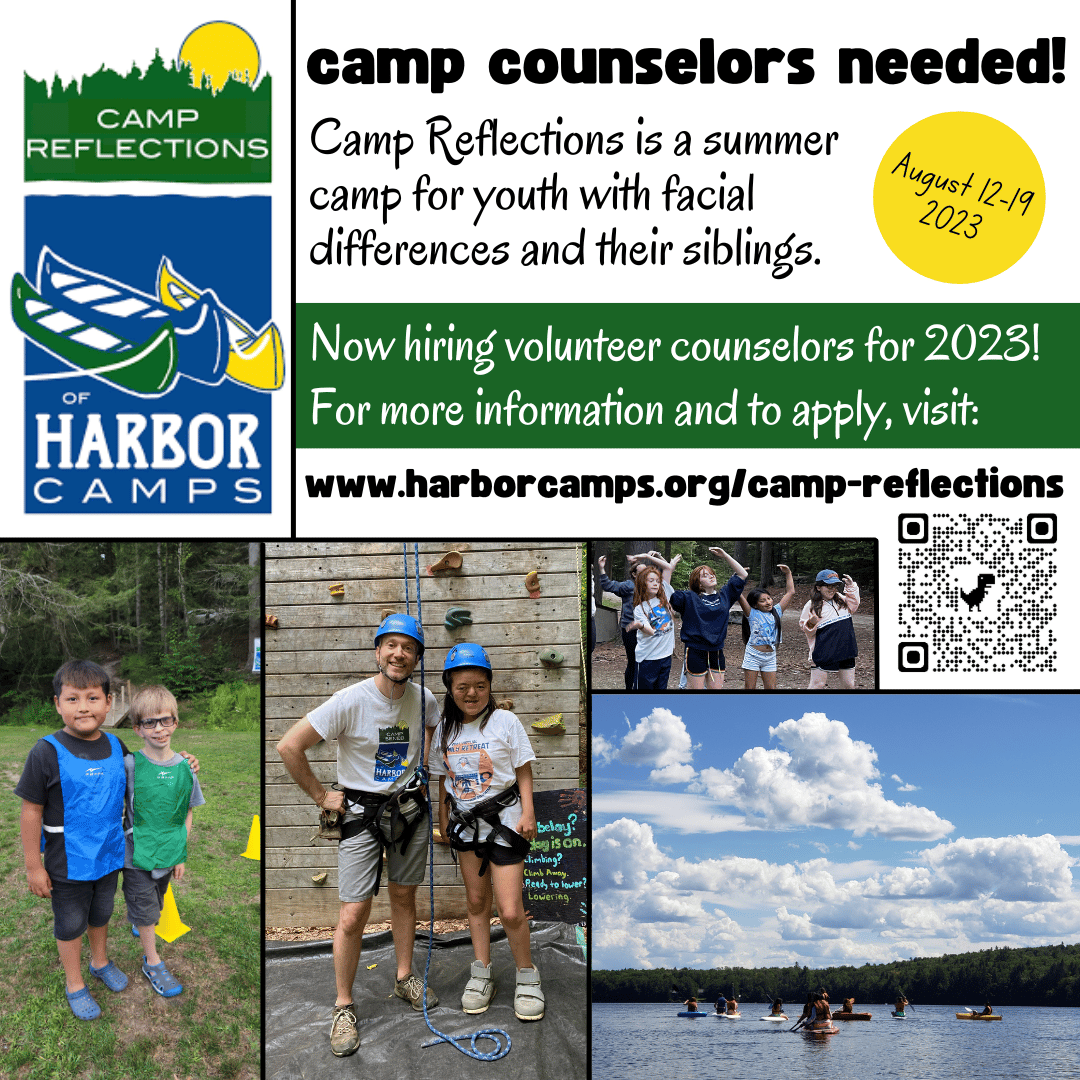 There is also a volunteer opportunity to be a camp counselor for youth aged 20 or above.
Learn more here and apply today! 
---
FREE Summer Camp Opportunities Through the SeriousFun Children's Network
1) Flying Horse Farms (Ohio; July 22–27)
Flying Horse Farms offers a FREE Summer Residential Camp for kids ages 8-15 with craniofacial differences as part of the Pulmonary & Craniofacial Summer Camp session, taking place July 22-27 in Mt. Gilead, Ohio.
There is no cost to attend camp, and lodging and meals are provided. Campers will live in cabins, and participate in traditional summer camp activities under medical customized supervision. These activities include archery, boating, fishing, arts and crafts, nature, sports and recreation, overnight outpost camping and all group programs. Applications are due April 3rd, 2023.
Click here to create your account & apply today!
Questions? Please reach out to campers@flyinghorsefarms.org. 
---
2) Camp Boggy Creek (Florida; July 22-26)
Camp Boggy Creek was founded in 1996 by Paul Newman and General H. Norman Schwarzkopf, with one simple premise in mind… that every child, no matter their illness, could experience the transformational spirit and friendships that go hand in hand with Camp. Boggy Creek offers a free Craniofacial Summer Session for children of ages 7-17 with craniofacial conditions, where kids can participate in such activities as archery, arts & crafts, theater, boating & fishing, and more!
Click here for more information and to register today!
---
3) Painted Turtle Camps (California; July 7-11)
Painted Turtle Camps offers a FREE camp for kids ages 7-16 with craniofacial conditions as part of their Special Diagnoses Summer Session taking place from July 7-11th in Lake Hughes, CA.  Applications are due June 27th, 2023. 
Lodging, meals and medical supervision are provided, and campers get to enjoy activities such as Woodshop, Arts and Crafts, Boating, Fishing, swimming in the pool,  Archery, Ropes Course and zip line, Campfire, Silly Olympics, Stage Night, and more!
Click here for more information and to apply today!
---
4) Victory Junction (North Carolina, June 18-22)
Victory Junction enriches the lives of children – ages 6 to 16 – with chronic medical conditions or serious illnesses by providing life-changing camp experiences that are exciting, fun and empowering; all in a medically-safe environment at no cost to the camper or their family.
Click here for more information and to apply today, and direct any questions to camperadmissions@victoryjunction.org.
---
5) Camp Korey (Washington, July 2-6)
Camp Korey creates empowering, adaptive year-round programs for children – ages 7 to 17 – and their families living with life-altering medical conditions, free of charge.
Click here for more information and to apply today, and direct any questions to admissionsteam@campkorey.org.
---
6) Roundup River Ranch (Colorado, June 20 – 24)
Roundup River Ranch serves children ages 17 and under, who have been diagnosed with a serious illness, and their families. The Neurologic, Craniofacial, Dermatologic Disorders, Epidermolysis Bullosa camp session will take place from June 20-24th. Campers come from the 11-state region of Colorado, Wyoming, Montana, New Mexico, Kansas, Nebraska, North and South Dakota, Oklahoma, Utah, and Texas.
Click here for more information and to apply today, and direct any questions to Camper@RoundupRiverRanch.org. Please note that applications are due Friday, March 31st.