R.J Palacio's New Picture Book Introduces to the Younger Audience the Story of Auggie Pullman
"I know I can't change the way I look. BUT maybe, just maybe, people can change the way they see."
R.J. Palacio extends the ever-important message of kindness, tolerance, and empathy to younger children through Auggie's voice.
The night of Palacio's book party for her 5 Year Anniversary of Wonder and the release of her new children's picture book, We're all Wonders, was exhilarating. The event venue was decorated with the the internationally beloved novel, Wonder, the treasured collection of companion stories, Auggie & Me, and the inspirational 365 Days of Wonder. Attendees buzzed with anticipation and were excited to celebrate Palacio's book, We're all Wonders where she dedicated it to our Director of Family Programs, Dina Zuckerberg, and myFace as well as Nathaniel Newman and his family.

R.J. Palacio specially presented our Director of Family Programs, Dina Zuckerberg with a framed cover of the book.
We're all Wonders was beautifully illustrated and written by Palacio. She uses Auggie's voice to convey the message of having kindness, love and acceptance in a picture book so younger readers can identify with Auggie. The book helps younger children understand that Auggie's difference is not to be feared.
"I know I can't change the way I look. BUT maybe, just maybe, people can change the way they see."
We're all Wonders book cover is really iconic – in a world where people are represented with two eye, a nose, a mouth and two normal sized ears, Auggie only is represented with one eye and an irregular shaped ear. Palacio said. "It's a little bit challenging, trying to figure out how to turn the craniofacial differences into a picture book that would both be inviting to children but also represent this child's journey without making it scary for little kids."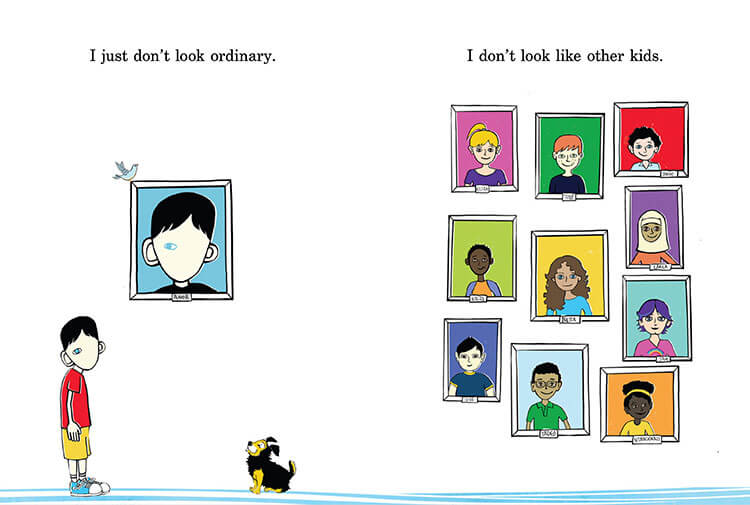 Watch Palacio's presentation on the We're all Wonders picture book about Auggie and his story. It was live streamed with The New York Times Books to hundreds of thousands of viewers via Facebook live. She reveals how she developed the illustrations.
We're all Wonders may be Auggie's story, but it taps into all children's longing to belong, and to be seen for who they truly are – It is what makes us WONDERS. It's the perfect way for families and educators to talk about empathy and kindness with younger children.
We're all Wonders by R.J. Palacio went on sale March 28th 2017: http://bit.ly/wawnder
Interested in learning more about other books written by R.J. Palacio or The myFace Wonder Project for schools based on her book Wonder? Check out our reading materials and The myFace Wonder Project to see how these resources can help your children explore empathy, kindness, acceptance and understanding the importance of having compassion.