NEW YORK, MARCH 11, 2022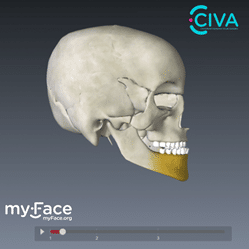 For more than 70 years, myFace, a New York City-based nonprofit, has been dedicated to changing the faces and transforming the lives of children and adults with facial differences by providing access to holistic comprehensive care, education, resources and support that pave the way for better outcomes. As part of this mission, myFace partnered with BioDigital in 2018 to develop a tool called the Craniofacial Interactive Virtual Assistant (CIVA) to help patients and their families prepare for common craniofacial procedures.
Fast forward to today, and myFace and BioDigital have continued to work together to improve the craniofacial patient experience. While originally only six of the most common craniofacial procedures were available to explore via the CIVA portal on myFace's website, the database has now been expanded to include nine procedures: Bilateral Sagittal Split Osteotomy, Fronto Orbital Advancement, Jumping Genioplasty, Sliding Genioplasty, Le Fort I, Le Fort III – Classic, LeFort III – Distraction, Monobloc – Classic, and Monobloc – Distraction. The audio and text explanations for each procedure are now also available in Spanish, making the content more accessible for a greater number of patients.
"BioDigital is proud to partner with myFace on the CIVA patient education portal, a unique and trusted resource that gives families the understanding of what to expect at every stage of the surgical journey. With an interactive 3D simulation that can be accessed at any time from anywhere, patients and families can visualize complex surgical concepts that would otherwise be understood only by living through the actual experience," says Aaron Oliker, Chief Innovation Officer at BioDigital.
Customized for the patient audience, each procedure has a 3D simulation to help answer technical and medical questions without exposing patients to any graphic details, thus relieving some of the stress and anxiety surrounding craniofacial surgery. Each procedure page also contains supplementary videos containing professional guidance, additional medical and technical support, and personal anecdotes from individuals who have experienced the procedure firsthand to help guide, educate, and prepare patients and families. For example, on the Le Fort III Surgery Simulator page, one mother of a son born with Crouzon Syndrome has the following insight for other parents to help them prepare:
"What you have a hard time wrapping your head around is how long it takes. The original surgery is hours, but it really takes three to three-and-a-half months for the rest of it… because they had to glue a plate inside his mouth, then they had to do a complete set of moldings for his teeth (which is really hard on a four-year-old)…" She continues that while the doctors describe everything ahead of time, it is still quite shocking "when your child comes out of surgery with wires in his face and bolts in his head." She says that even though "It is a tough, long process… it's not as bad as it looks," and advises parents "to keep in mind the end results."
To date, the innovative, user-friendly CIVA interface has helped nearly 2,500 patients and families better prepare for surgery by visualizing preoperative, surgical, and postoperative/recovery stages of the reconstructive process with more detail and accuracy than ever before. To explore the new and improved CIVA interface – available to anyone, free of charge – visit http://www.myface.org/civa.
"We are grateful to BioDigital for their continued partnership, which allows myFace to better prepare craniofacial patients and their families for surgery, as well as to raise awareness and understanding of the populace-at-large regarding what craniofacial patients and families endure," says Stephanie Paul, Executive Director of myFace. "Building understanding leads to empathy, and empathy changes society for the better."
"Our mission at BioDigital is to make health and the human body understandable to all people, and our work with myFace is a perfect embodiment of that," says Frank Sculli, CEO of BioDigital. "We applaud myFace for their continued commitment to guiding patients through the care continuum and are honored to support them by enhancing patient education with 3D interactive craniofacial procedures."
About myFace
For more than 70 years, myFace has advocated for individuals and families to ensure them access to comprehensive medical and emotional craniofacial care and support. By providing important services such as support groups, educational webinars, podcasts, online resources, and more, myFace helps individuals with facial differences achieve the best possible outcomes and know they are never alone in their journey. For more information about myFace, please visit http://www.myFace.org. You can also follow us on Facebook, Instagram, Twitter, and LinkedIn, and subscribe to our newsletter to receive the latest updates.
About BioDigital
BioDigital, Inc. is a New York-based biomedical software company dedicated to making health and the human body understandable to all people. Our flagship product, the BioDigital Human, is a comprehensive virtual model of the human body, including anatomy, physiology, conditions, and treatments. Our platform empowers users to create immersive experiences in any web or mobile application using interactive, 3D technology to visualize the inner workings of the human body. For more information, visit biodigital.com and follow us on Facebook, Instagram, Twitter, and LinkedIn.
# # #