Podcast Episode Release Date: January 15, 2023
Navigating life with a craniofacial condition certainly comes with challenges. On this month's episode of myFace, myStory, host Dina Zuckerberg is joined by Dorsey Ross – minister, podcaster, and public advocate born with Apert Syndrome. Dorsey wants us all to remember that with support, community, and faith – whether that be faith in yourself, your community, or a higher power – you can create a beautiful life filled with meaning and purpose.
Read about our guest below the video: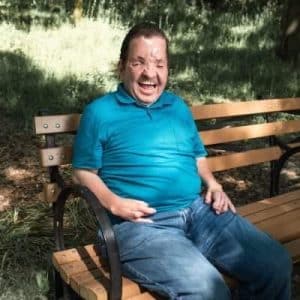 Dorsey Ross was born with a craniofacial condition/congenital disability called Apert Syndrome, which resulted in his forehead being pushed outward, his nose and mouth pushed inward, and the fusion of his fingers and toes, leaving him with no individual movement of them. While his diagnosis certainly came with obstacles – such as being bullied, and undergoing over 65 operations – Dorsey never let his condition dictate the trajectory of his life.
When he was born, doctors gave Dorsey's parents no hope for his survival and advised them to put him into an institution. Throughout his childhood, teachers told Dorsey he would not make it to college. But after years of hard work and perseverance, he graduated from community college with an Associate's degree, and then went on to graduate with a Bachelor's Degree in Youth Ministry.
His life's motto is: "The word 'can't' is not in my vocabulary," because he doesn't believe in putting limitations on himself. Dorsey draws strength from his faith, and he believes that through God all things are possible.
Through his advocacy work and by sharing his story, he hopes to encourage other people in the craniofacial and disability communities to never put limitations on themselves, either, and trust that they can accomplish anything they put their minds to.
Ask Dina
Share your thoughts with Dina or subscribe by email to receive updates with links to new podcast episodes!
Subscribe to myFace, myStory
Listen to myFace, myStory anytime from anywhere on your favorite Podcast App or myFace's YouTube Channel.