What is Apert Syndrome?
A condition of facial difference (craniosynostosis) characterized by a large skull, widely spaced eye sockets, bulging eyeballs, tilted eyelids, underdevelopment of the upper jaw, misalignment and crowding of the teeth, webbed fingers, toes or both; can also include cleft palate and mental retardation.
The gene for Apert Syndrome has been located on chromosome 10, and it is called Fibroblast Growth Factor Receptor 2 (FGFR2). (Charkins, 1996)
Characteristics of Apert Syndrome
Apert Syndrome is a condition involving distortions of the head and face and webbing of the hands and feet. Characteristics include:
Skull – short from back to front, wide on the sides, and overly tall (craniosynostosis)
Eyes – slightly side-spaced, bulging, the eyelids tilt downward abnormally at the sides
Face – the mid-face has a sunken-in appearance, the upper jaw slopes backward, lower teeth project in front of the upper teeth
Hands and feet – webbing and/or fusion including finger bones, toe bones, and joints of fingers and toes
Patient Spotlight
Meet Sara. She's found community through surfing and encourages other young people to find hobbies they enjoy.
"My lasting wish is that all children with craniofacial conditions or disabilities find the strength to fight for their dreams and live outside their comfort zone."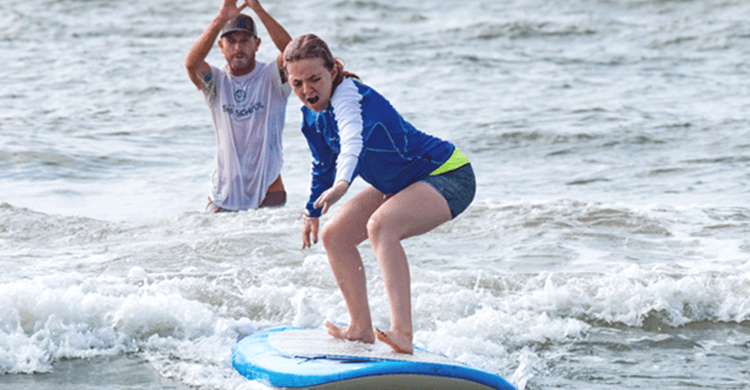 For nearly 70 years, myFace has worked with patients and families to provide comprehensive care and support. In addition to providing access to state-of-the-art medical care, myFace provides other important services such as emotional support groups, workshops and educational webinars that offer guidance, counsel and resources for patients, families and the greater craniofacial community across the country.