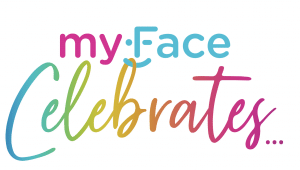 myFace's annual myFace Celebrates… event will be held on Monday, May 2, 2022, giving members of the myFace Family and the wider craniofacial community an opportunity to come together to share stories of hope, resilience, and healing through musical performances and storytelling.  And we'd like YOU to be one of our STARS! 
Singers, instrumentalists, and performers living with a craniofacial difference – if you have a talent, we'd like to know about it!  (NOTE: You don't have to be in NYC to participate!)
If selected, you'll be paired with a professional performer as your mentor to help hone your skills and realize your potential, culminating in a virtual or in-person performance that will be broadcast to viewers all over the country!
(NOTE: While spots in the program will be limited, everyone who submits an application will have the opportunity to take part in the grand finale with all the other performers!)
---
If you're selected to be featured in myFace Celebrates… here's what to expect!
1. You will be contacted via email by mid-January 2022.
2. You will participate in 2 recorded sessions with your mentor and our production team in February/early March 2022.
3. If you are unable to be in NYC for the live event on Monday, May 2nd, you will record a performance showcasing your talent after your mentorship sessions are complete by April 1st, 2022.
4. Our production team will be in touch to schedule everything and make sure you have what you need every step of the way!
5. Have fun and let your myFace Star shine bright!
If you have any questions between now and the January 10th submission deadline, please feel free to reach out to Dina@myFace.org or call 917-743-1939.
And to see some of the myFace Stars' performances at last year's event, explore below!