There are a lot of amazing young myFace patients, but did you know myFace helps adult craniofacial patients as well? Earlier this year we hosted Juan Carlos, a native of Ecuador, in our apartments while he was having surgery.
We wanted to share this email we recently received from him, explaining his background and what myFace means to him:
Greetings from Ecuador!
My name is Juan Carlos, and I'm a myFace patient.
Born with a bilateral cleft lip and palate, I had my first surgery 10 weeks after I was born. Ideally, my condition should have been treated in 3-4 surgeries, max. Unfortunately, surgeons got it wrong and compromised the bone structure of my mid-face, its functionality and aesthetics.
As a result, my nose, cheekbones and orbital bone became disfigured while I was growing up. I was subject to multiple surgeries to strengthen my bone structure (multiple bone grafts, distraction osteogenesis surgeries, osteogenic stem cells grafts) and improve its form and function.
When I was two years old, I started effective speech therapy that continued until I was four. I not only learned to speak normally, but also developed speaking skills in (native) English, (intermediate) French and (elementary) German throughout my education. During my education, two elementary and two secondary schools rejected me due to my physical condition. Nevertheless, two of the national top elementary and secondary schools accepted me due to my intellectual capacity. Since the first surgery, I have received extensive medical treatment in Ecuador and the United Sates. It has involved 28 maxillofacial surgeries in 31 years. Indeed, while writing these lines, I am recovering from my last surgery and by the time you read them, I will be recovering from the penultimate surgery to complete the medical treatment. My family and friends' support has been essential to understand and embrace my physical condition as both a life strength and an opportunity to influence others positively.
I do not have teeth in the upper jaw yet, but after just 2 surgeries performed by Dr. Eduardo Rodríguez and his medical team at NYU Langone Health, I already have a strong bone in the upper jaw (free fibula flap) and 6 dental implants that will support a full dental prosthesis that will hopefully be placed by August or September. I have experienced unprecedented surgical results in the last couple of years. Hopefully, I will be able to chew and eat normally by the end of this year after 2 additional procedures. So, I should have a significant improvement in my quality of life in just 3 years and with just 3-4 surgeries. This is something that I was unable to achieve in 31 years and with over 25 previous surgeries. So, you might imagine how excited I am!
These medical treatments would have been difficult to achieve without the support of myFace. It is not just about the financial help, but more importantly it is about the human warmth that they provide. I stayed at one of their apartments and they really made me feel at home. During my stays at myFace, I have always felt that I can count on you as close relatives to overcome any unexpected event and care for me after surgery. myFace is myFamily.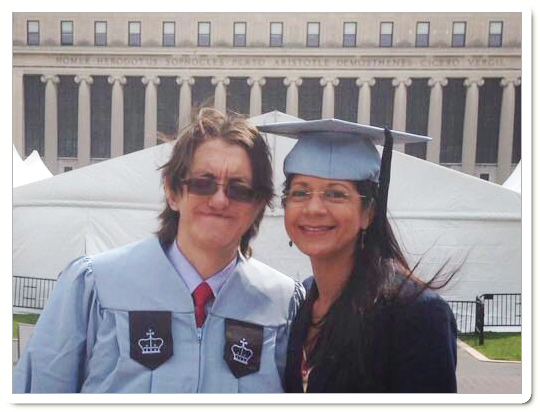 We are so happy to be able to help Juan Carlos, and are excited for his next steps; in addition to his final surgery, he's going to be getting his PhD in Geography at UC Berkeley!