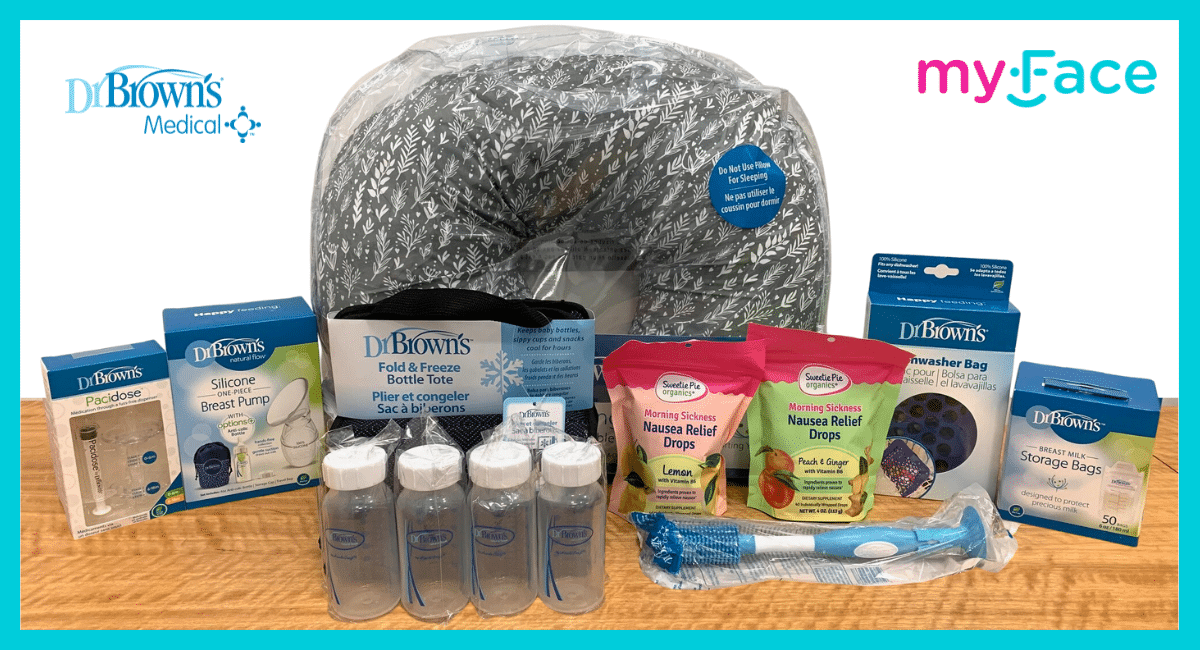 Mother's Day Giveaway
Mother's Day is a time to celebrate motherhood and all the moms in your life! We are continually inspired by all of the loving, nurturing, and supportive mothers in the myFace community who advocate for, and care for, their children each and every day.
Motherhood is a full-time job and can be stressful for anyone, but mothers – or expectant mothers – of a child with a craniofacial condition often have additional medical concerns to navigate. To help celebrate moms in the craniofacial community and beyond, myFace partnered with Dr. Brown's Medical to provide a gift basket full of items to support new and expectant moms. All you have to do is register below for a chance to win this exclusive Dr. Brown's® Gift Basket!
If you have a baby are expecting one soon, this basketful of Dr. Brown's® products stocked with "must haves" is for you! The contents of the basket are not specific to parents of children that have craniofacial conditions, so everyone is encouraged to enter!
Basket includes:
Breastfeeding Pillow
Fold & Freeze Bottle Tote
Silicone One-Piece Breast Pump
Breast Milk Storage Bags
Silicone Dishwasher Bag
Pacidose™ Liquid Medicine Dispenser
Sweetie Pie Organics® Morning Sickness Nausea Relief Drops (Qty=2)
AccuBrush™ Bottle Brush
Breast Milk Storage and Collection Bottles (Qty=4)
Estimated value: – $125.00
Enter for a chance to win!
Giveaway Rules
The contest will begin at 12:01 am ET on May 1, 2023 and run until 11:59 pm ET on May 31, 2023. A winner will be chosen at random and contacted by email and/or phone after the contest is complete. If the Winner's email and phone number are not working or they do not respond within 3 days, another winner will be chosen.
Please note that this contest is only open to U.S. residents, as free shipping is only available within the United States. No purchase is necessary. Only one entry per email address will be accepted.
This giveaway is now closed! Please subscribe to myFace's newsletter to receive updates and learn more about future giveaways.
About myFace
For nearly 72 years, myFace has been dedicated to changing the faces – and transforming the lives – of children and adults with facial differences by providing access to holistic comprehensive care, education, resources, and support that pave the way for better outcomes.
myFace is partnering with fellow nonprofit Welcome Baby to provide low-income families with free Newborn Craniofacial Care Kits that contain essential items that help facilitate adequate nutritional intake for babies with cleft lip and palate and other craniofacial conditions during their first weeks of life.