Podcast Episode Release Date: February 15, 2023
On this month's myFace, myStory podcast, host Dina Zuckerberg spoke with David Roche, an inspirational humorist who has a facial difference. David shared details about how he overcame the shame he felt about his differences, how he learned to accept them, and how he realized that his flaws and his gifts are one and the same. Additionally, they discussed how he found true love with his wife, Marlena, and how that experience led to the creation of "Love At Second Sight;" an educational video detailing their love story that talks about difference, belonging, judgment, and inclusion.
Read about our guest below the video: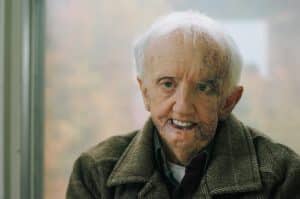 David Roche, an iconic pioneer in disability culture, has appeared from New Zealand to Moscow to the UK, across Canada and the US (including the White House and Kennedy Center) as a humourist, solo performer, actor, filmmaker, and storytelling coach. He is an author ("The Church of 80% Sincerity," published by Penguin and Amazon), and has also been featured in the National Film Board of Canada's film Shameless, and has a feature role as Otis in the recently released Happy Face.
He and his wife Marlena produced the educational video Love at Second Sight about difference, belonging, judgment, and inclusion, available free-of-charge at loveatsecondsight.org. A recent recipient of the Order of Canada, he and Marlena live in Roberts Creek, BC.
If you're looking for more resources on this topic, check out Season 1 Episode 9 of myFace, myStory, "LOVE IS IN THE AIR: NAVIGATING RELATIONSHIPS AND INTIMACY WITH A FACIAL DIFFERENCE," which explores trying to navigate intimacy and building relationships while living with a facial difference. Learn more at myface.org/loveisintheair!
Share your thoughts with Dina or subscribe by email to receive updates with links to new podcast episodes!
Subscribe to myFace, myStory
Listen to myFace, myStory anytime from anywhere on your favorite Podcast App or myFace's YouTube Channel.