Live Broadcast: Dec 15, 2022, at 6pm ET / 3pm PT
On this month's myFace, myStory, host Dina Zuckerberg was joined by Matthew Joffe, born with Moebius Syndrome. Matthew is the Director of Outreach and Education at the Wellness Center at LaGuardia College/CUNY in New York. This episode was a special and intimate conversation between Dina and Matthew where they discussed his journey of living with Moebius Syndrome; and how his journey and illustrious career have personally inspired Dina, along with countless other members of the craniofacial community.
Read about our guest below the video: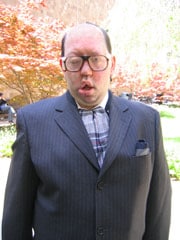 Matthew S. Joffe is the Director of Outreach and Education at the Wellness Center of LaGuardia Community College/CUNY. Formerly the Senior Director of the Office for Student Guidance and Disabled Students Programs, he came to LaGuardia in August 1994. He has over 42 years of experience as an educational therapist, psychotherapist, and trainer. He has been nationally recognized as an expert in the field of learning disabilities and has had extensive experience training professionals in vocational rehabilitation, learning disabilities, traumatic brain injury, and chemical dependency. He is also a trainer in Mental Health First Aid (MHFA) and MHFA 2.0. Matthew was born with Moebius Syndrome.
Ask Dina
Share your thoughts with Dina or subscribe by email to receive updates with links to new podcast episodes!
Subscribe to myFace, myStory
Listen to myFace, myStory anytime from anywhere on your favorite Podcast App or myFace's YouTube Channel.